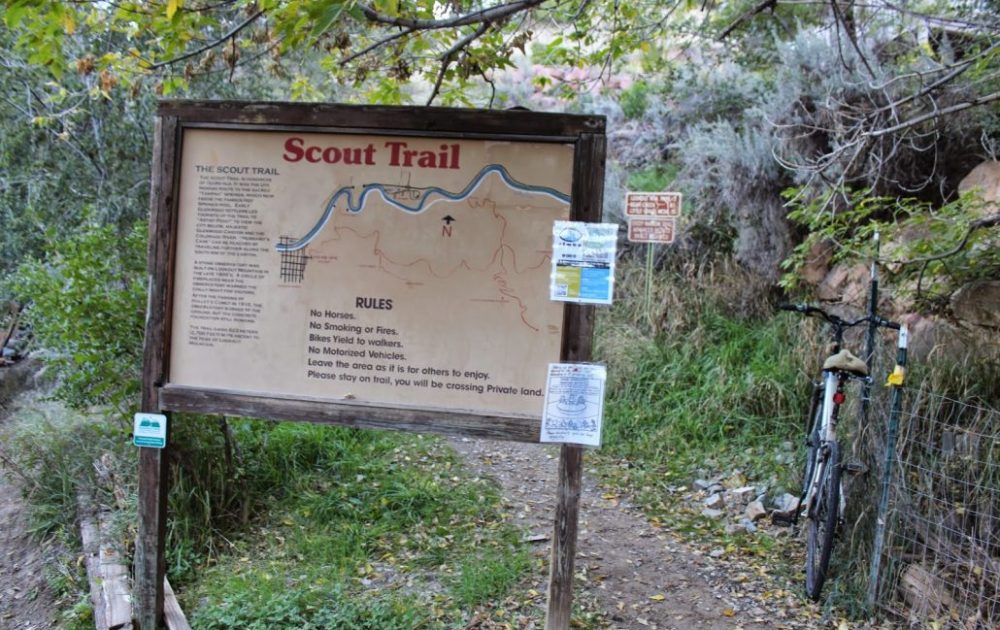 Description: In comparison to the adjacent mellow grades of Forest Hollow Trail, Boy Scout Trail (also known as "Scout Trail") is a rip-roaring downhill that will make the most use of your brakes. While some hardy folks do ride/push up from town, it's best enjoyed as the final (downhill) segment of a Forest Hollow and Scout Loop.
From the top of the trail, it begins to descend in a fast, steep and fairly technical manner. Many switchbacks and some sandy sections make for some hairy but fun moments. Exposure is common on this section so be careful. Also, watch your speed as hikers are abundant on this trail, often just around a blind corner.
Rating: Intermediate to Difficult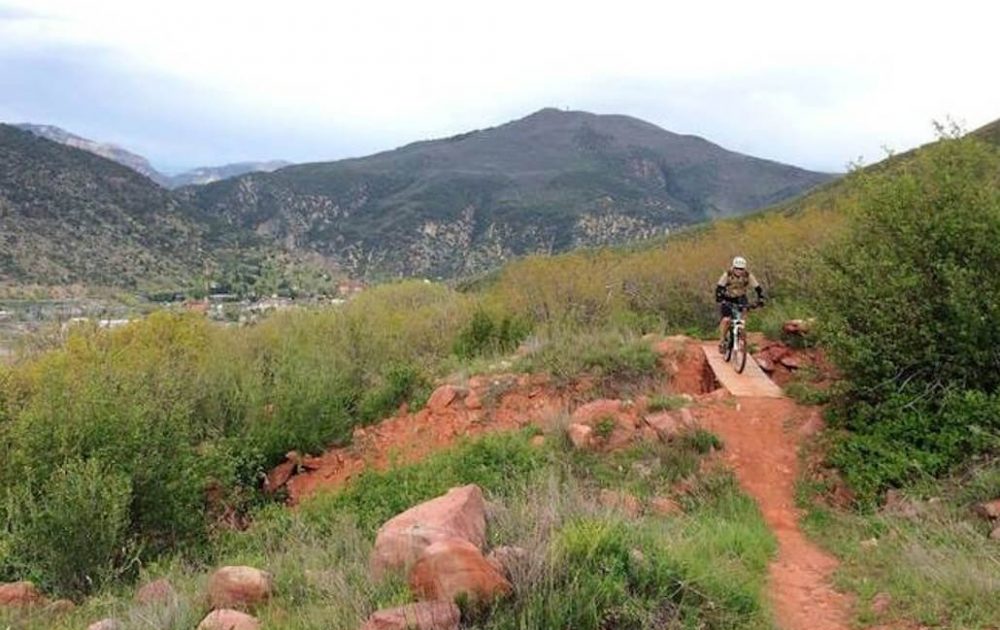 Description: This trail is named in reference to Glenwood Springs' original name, Defiance. This Wulfsohn Mountain Park trail climbs to the highest point in the system, with steep climbing and narrow, sometimes rocky trails creating some of the more challenging moments in the park. The trail rides well in both directions and can be used as part of a loop or figure 8 loop with all of the other nearby trails.
Access is from the Wulfsohn Trail – South TH segment and from the vicinty of the Stevie Bob Trail/Wulfsohn Trail – North TH.
Rating: Intermediate to Difficult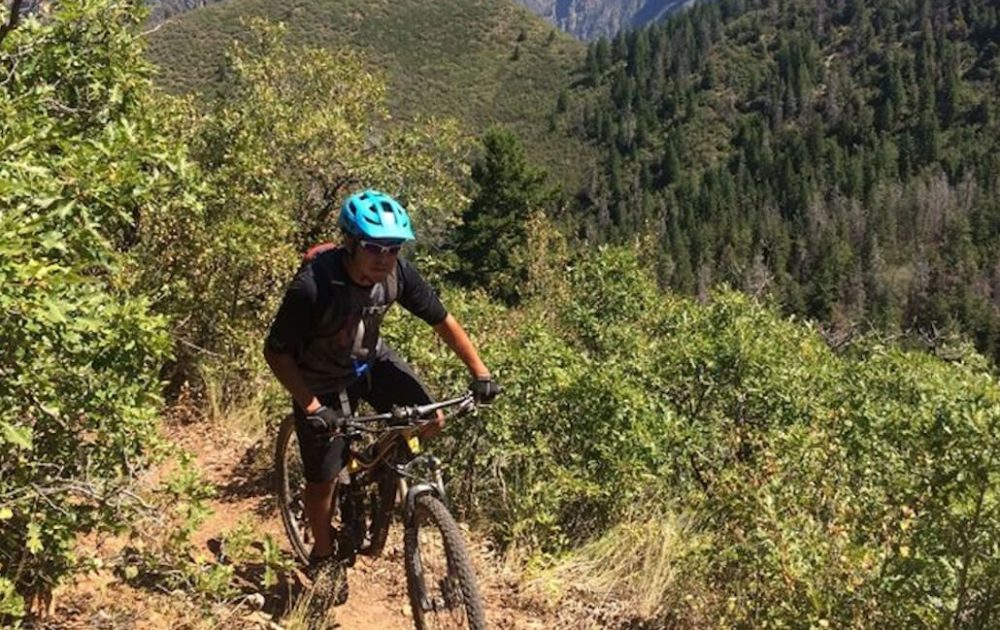 Description: After the long climb up Red Canyon Road and Lookout Mountain Road, you are rewarded with some of the best singletrack riding anywhere. Beginning high on the south rim of Glenwood Canyon, the trail meanders through thick pine forest and numerous fields of wildflowers and lush greenery.
Never does the trail depart from smooth tacky and narrow singletrack. Along its entire length, you are rewarded with excellent views of the canyon and in places, you can see the Colorado River way down below. As you near the end of this section, you are rewarded with a fantastic downhill romp that is the Boy Scout Trail.
Rating: Intermediate to Difficult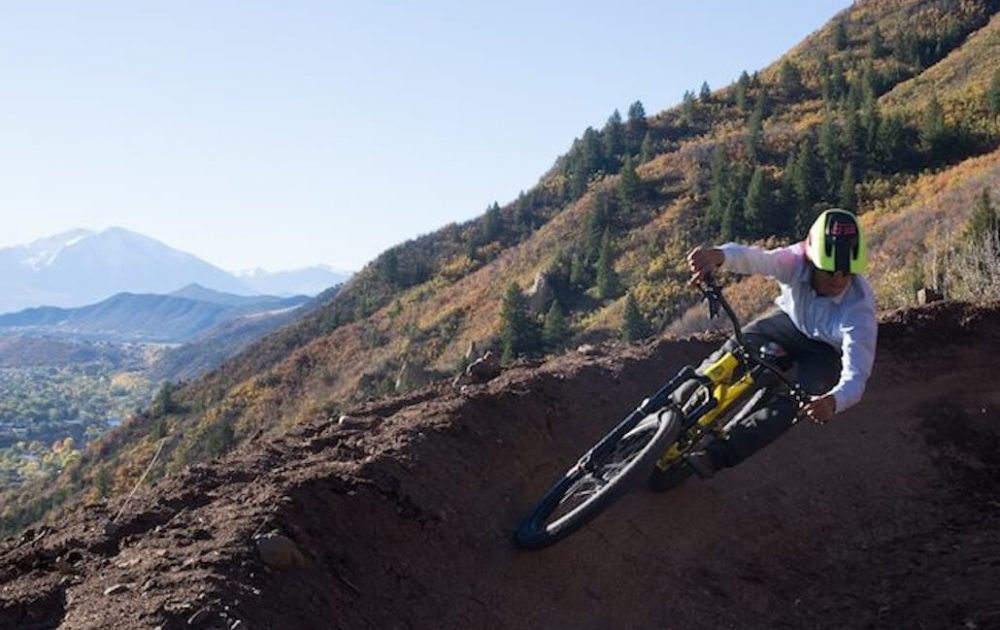 Description: Grandstaff Trail is a worthy destination for everyone who appreciates big views, flowing dirt and rocky tread, bermed turns, optional air time, and yes, a bit of effort to reap a big reward. Climbing Red Mountain Jeanne Golay Trail is quickly becoming the preferred way to enjoy a descent on this trail.
Two historic upper trail segments have been improved with better turns, drainage, and plenty of optional rock jump features to roll or pop over. The remainder of the trail is professionally built, featuring a wide enough bench to allow for easy passing, and countless berms along with a handful of tight switchbacks. Grade reversals along the trail offer expert riders plenty of air time opportunities, and some of the berms even have optional high entry lines to help you keep your speed out of the turns.
Most of the trail is in thick oak brush terrain, with occasional massive views of downtown Glenwood Springs, the Roaring Fork and Colorado Rivers, the Flattops and even Mount Sopris in the distance. Evidence of the Red Mt. Ski Area that graced the lower slopes of the mountain from 1938 to 1966 is seen with the few chairlift towers that remain. The trail goes under one of these bright orange steel tower structures, which makes for a great photo op along your ride.
Rating: Intermediate to Difficult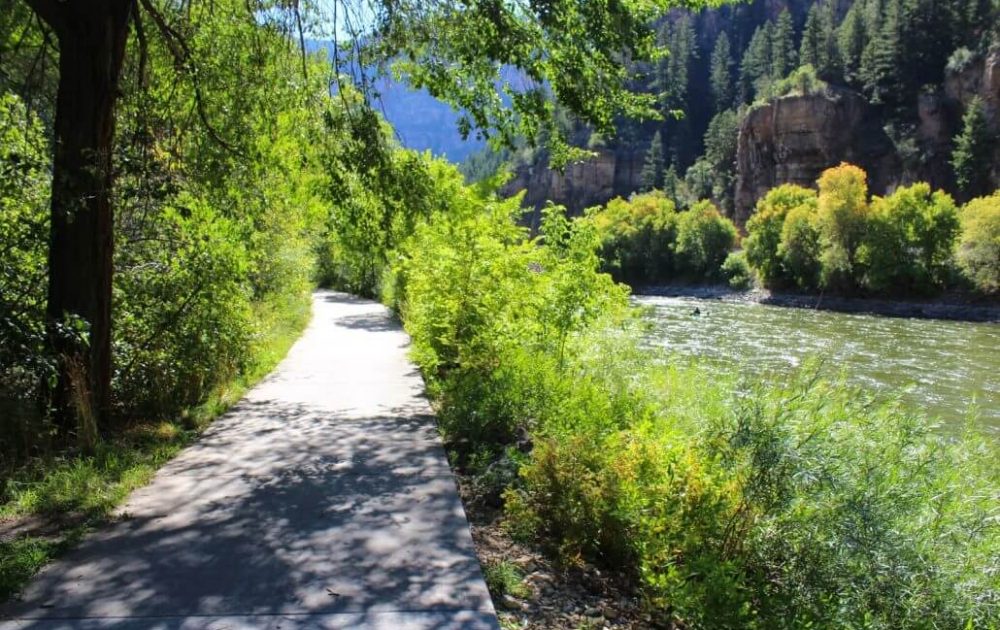 Glenwood Canyon Recreation Trail
Description: The Glenwood Canyon Recreation Path runs between the Colorado River and I-70. Starting in Glenwood Springs and ending in Dotsero it offers a scenic break to travelers who want to stretch their legs. The path is relatively flat making it a great route for all ages and abilities.
Type: Doubletrack (concrete)
Distance: 16.3 miles (one-way)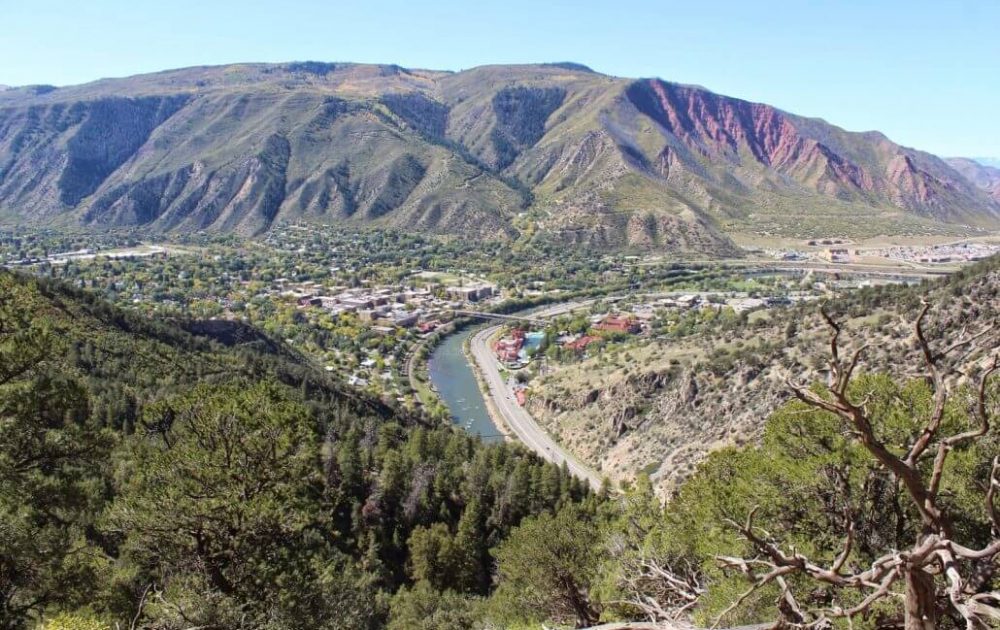 Description: This steep singletrack connects Lookout Mountain to the Forest Hollow Trail and Boy Scout Trail. Portions are rocky and probably only the strongest will be able to ride up.
The upper entrance is at the parking area atop Lookout Mountain. The bottom starts just off Forest Hollow Trail, about 50 yards north of its connection with the Boy Scout Trail.
Whether you can ride it or have to hike-a-bike, the trail makes a handy connection between Forest Hollow Trail and County Road 120. This allows you to do Forest Hollow Trail as a shorter loop if you don't want to do the full loop from town.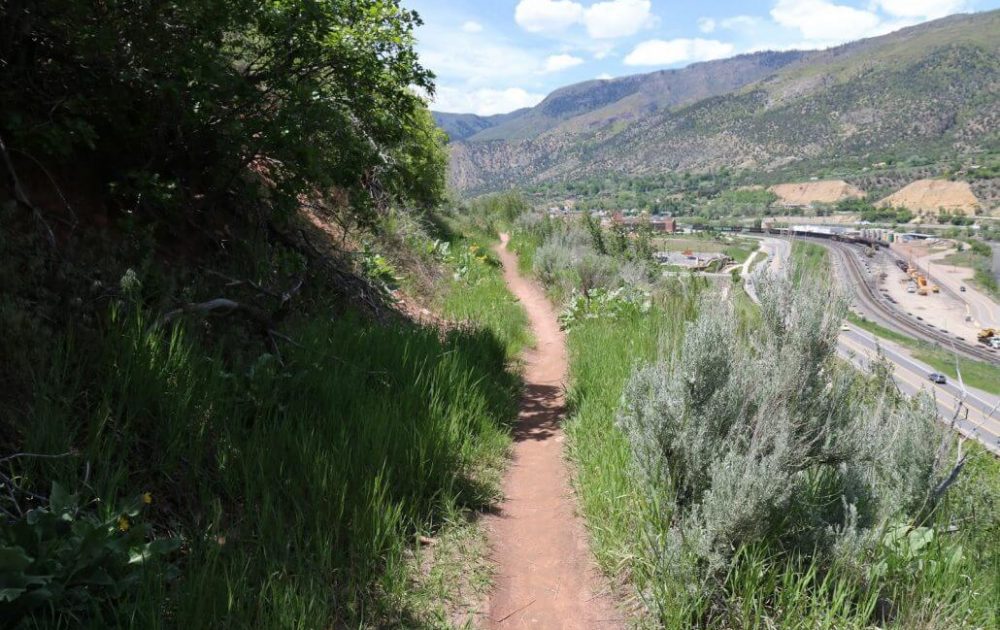 Description: Part of Wulfsohn Mountain Park, this is a very fun, fast, and nearly flat connecting trail that follows an old ditch alignment. Use it to connect the Glenwood Springs Community Center via Wulfsohn Trail – South TH to Red Mountain Road.
Note: The public access to this ditch trail, while not disputed by private land owners & long used by the community, has not been formally resolved. Please stay on the trail and respect surrounding private property so that we can continue to enjoy this trail!
Rating: Easy to Intermediate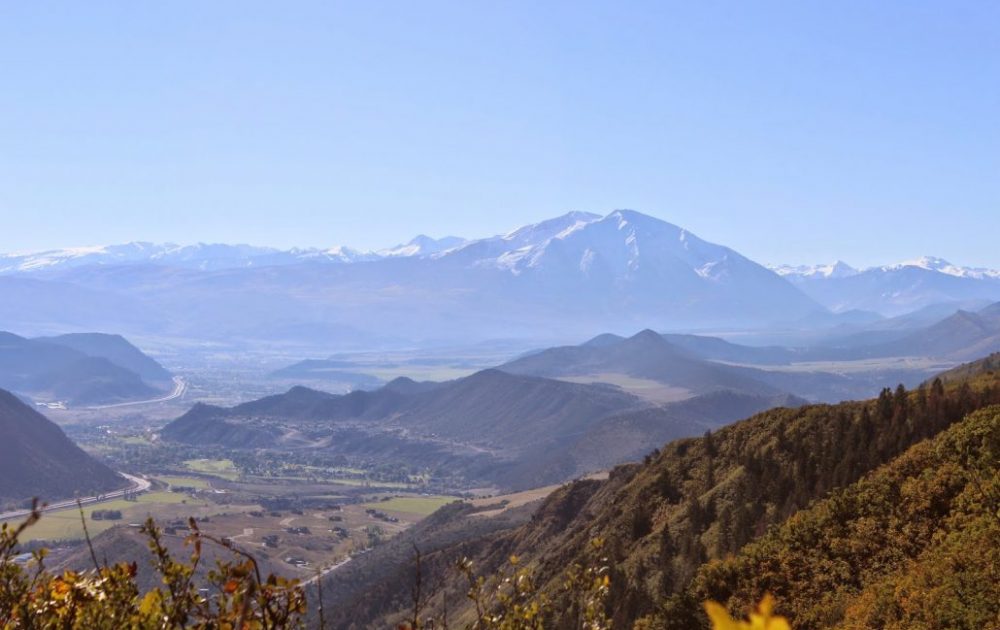 Red Mountain Jeanne Golay Trail
Description: This dirt road gets you efficiently, but never too steeply, up above Glenwood Springs to a great viewpoint right next to "The Cross" which can be seen lit up at night time. This is a private land access dirt road, gated to motor vehicles at the trailhead, but open to public foot and bike traffic. The paved lower portion turns to dirt just beyond the City of Glenwood Springs' water system facilities. The road is known as the Red Mountain Jeanne Golay Trail, named in honor of the Olympic road race bicycle champion given her training and racing efforts on this dirt road.
Along the way up the road, you'll note numerous singletrack trail segments that meet up with the road. Most riders use this road to access the Grandstaff Trail, either from the top, or at the several 'kissing' points along the roughly adjacent routes. The steeper segments that kiss this road are known as the Cross Trail. While open to bikes, the Cross Trail is a favorite for hikers and runners looking for a steeper workout. The lowest segments of the Cross Trail are steep fall-line trails with some deep ruts and occasional double diamond style difficulty.
The bright orange colored lift towers from the old Red Mountain Ski Area (1938-1966) can still be seen along the road.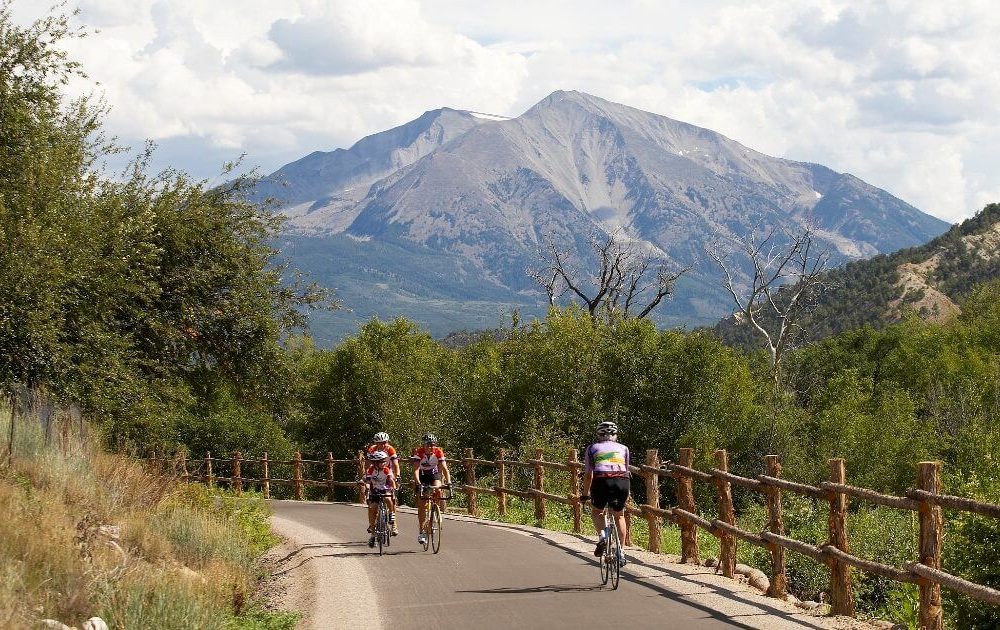 Description: The Rio Grande Trail spans the length of the Roaring Fork Valley, use it to connect to numerous singletrack networks, as well as downtown Aspen, Basalt, Carbondale, and Glenwood Springs. One non-paved section of trail remains near Aspen, but that's only for the better if you're on a mountain bike.
The Rio Grande has 42 miles of continuous multi-use trail and is completely protected from vehicular traffic except at intersections. The Rio Grande Trail is a rails to trails project which is built on the Aspen Branch of the historic Denver and Rio Grande Western Railroad. Train operations in the corridor ceased in phases, between the 1960s and the mid 1990s.
TRAIL ETIQUETTE
Cyclists must use an audible signal when overtaking other trail users
Pet wastes must be disposed of properly
Respect private property – stay on the trail at all times
All dogs must be on leash
Bicyclists and pedestrians yield to equestrian
Type: Doubletrack (paved/concrete)
Distance: 43.5 miles (one-way)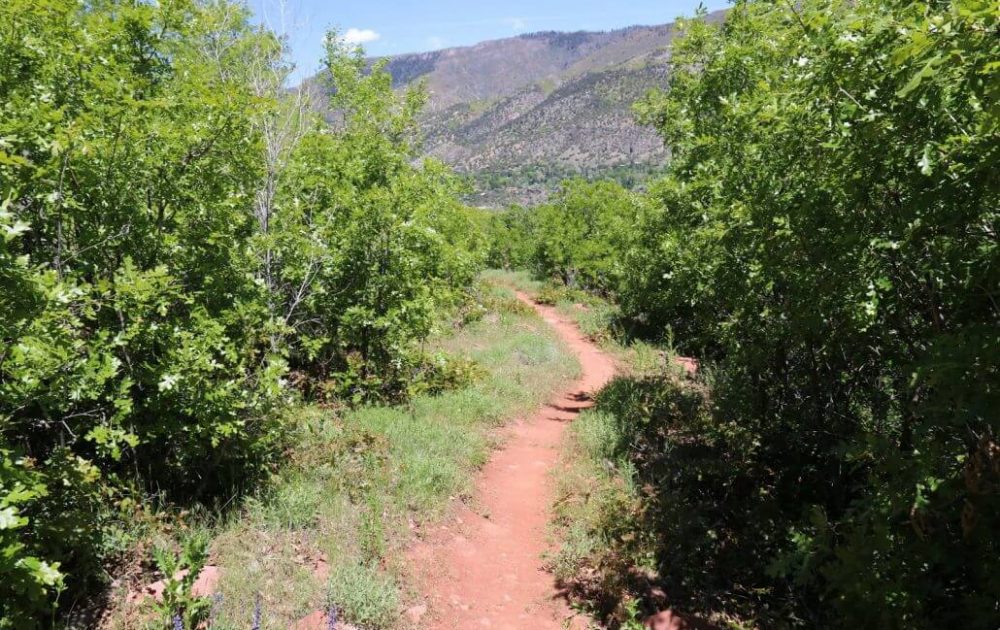 Description: Park of Wulfsohn Mountain Park, this easy trail is occasionally rocky, but generally easier than the other singletrack trails in the park, as it traverses along the toe of the slope created by the catchment basin. As it is parallel to the Stevie Bob Trail, the Wulfsohn Trail – Lower cinder path, and the Defiance Trail, it can be used as part of a loop or figure 8 loop ride.